HOW I GOT TO KISS COURTNEY LOVE'S LEFT BREAST (PART 2)
I'm lounging round the flat in one of my ex-girlfriends dresses, leafing through the NME, idly playing with myself while listening to 'Doll Parts':
I am
Doll Parts
Bad Skin
Doll Heart
It Stands for Knife
For the Rest of my Life
I'm gazing at a heavily pregnant Courtney in the NME, on page 3, appropriately. She looks like a hefty nymph in rape-me make-up, transparent baby-doll nightdress,a wreath of flowers in her hair. Her right hand is raised in what appears to be a come-hither-mortal-shepherd-boy gesture.* In fact, she's holding a cigarette, airbrushed out of the original vanity fair article.*
The cotton rope around my testicles is beginning to chafe, and I'm about to toss the rag aside when my eyes are drawn to the word 'HOLE'. It takes a few seconds to realise I'm looking at a list tour dates. She's playing Brixton Academy. Tonight. She's three miles away from my house.
I sprint to the chemist and score a box of maximum strength hydrogen peroxide. Back in the flat, I swallow a gram of base and smear the violet solution into my head, retching as the speed slides down the back of my throat. Real life, at that time, tasted of ammonia. I scramble for the phone as the bleach eats into my scalp. After five minutes I find it under an empty box of fried chicken. An avuncular robot informs me that on the third stroke the time sponsored by accurst will be 7:23 and 5 seconds. Fuck, she'll be onstage at 9. I peel off my ex-girlfriends frock and dive into the bathroom. I turn on the hot tap for the first time in two weeks. In the bedroom, scavenging for cash I raise just under a fiver. Tickets, if they're not sold out, which they are, are £15.
Then the speed kicks in, and life becomes very simple.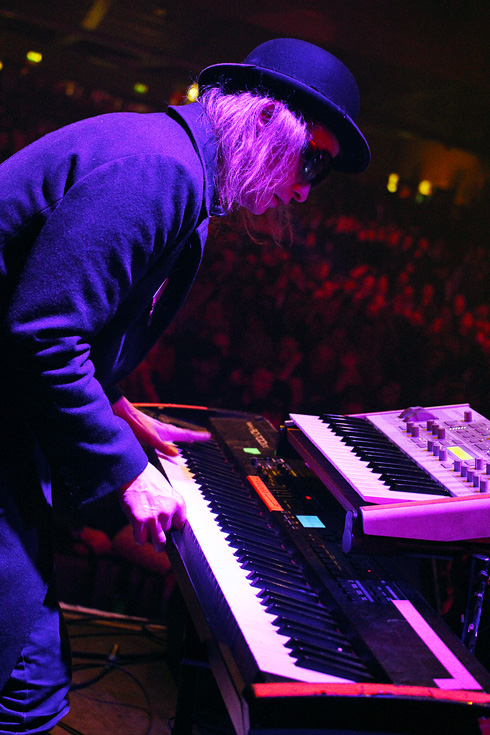 I crash through the doors of Brady's in a purple velvet jacket, ripped black jeans and fishnets, face plastered in cheap cosmetics. I look like a time lord that's been forced into prostitution. 'How much, love?' says a squinty little Irishman. I briefly consider offering to suck him off in the toilets for price of the ticket when, at the back of the room I spy a strange woman in a short skirt and garish make-up.
She clocks me with a carnivorous smile.
Oh Shit.
'Hi Alice.'
She's working the classic 'Kinderwhore' look, as popularised by Courtney; tight schoolgirl frock, high heels, suicide blonde and a gash of red lipstick.
Sitting next to her, in one of her skirts, is the boy Marcus, the boy I nicked her off in Brixton a year ago, the boy who nicked her back in Islington three weeks later.
Marcus was a bit like me; skinny and intense, but better dressed, and more extreme. He stole his make up from Fox's, not Superdrug. On his forearm he displayed a neat row of razor-slashes, fresh blood soaking prettily through a perfectly tailored shirt.
Slut me open and suck my scars
And now I'm loaded
Yeah now I'm loaded
Black lung coat and your little crown
That's the crown that you get when you fall down
'Hi Orlando…what's with the hairdo? Bit fraggal rock isn't it. Nice to see you!' He kisses me on the lips and gives me a feral smile. I envied him his charm, and his talent for self-destruction. (Even when…crematorium) And Alice.
'Are you coming to Hole?' asks Alice, sweetly.
It takes a few seconds to understand the question.
'Yes, I thought I might' I smiled as a chasm of despair yawned within me.
'Have you got a ticket?' She asked, Interrogatively
'Er, no.'
'You know it's sold out' she said, Reprovingly.
'Oh!'
'We've got one spare' she said, Happily.
'Ah!'
'But it's for someone else.' she said, Sadly.
'Oh.'
'They might not turn up' she said, Encouragingly.
'Oh?'
'But they probably will.' she said, Severely.
'Ah.'
As she talked she seemed to get bigger then smaller, and I felt curiouser and curiouser. All forms of intercourse with Alice tended to engender a bipolar condition in me. But I had an ace in the hole.
'Er, I've got this, if it's any help' I pull out a tiny multi-coloured envelope. Ten minutes later the three of us are marching towards the Brixton Academy, and an audience with Courtney, the Uberkinderwhore… My brain is now completely engorged with amphetamine sulphate. My scarecrow barnet is standing on end and I haven't blinked for ten minutes.
Inside the Academy, a mardy, five thousand headed Leviathan is seething towards the stage. Nine hundred miles away, the queen bitch herself, the Empress of Fuck, is breaking into "Gutless".
Girl germs lead to little virus
Revolution come and die
Elitists who eat the virus
Sleep with me, wake up alive
She's been on stage for twenty minutes, and the idea of fighting my way through five thousand frenzied emos is a ludicrous proposition. But Love will find a way. And where there's a will there's a way. As Hitler said to Goebbels in a bunker in Berlin, where there's Love and Will, and pure base speed, it's death or glory. Forgetting my friends, I launch myself into the crowd…
© Orlando Harrison 2014